website construction | portfolio
To date, all the website construction work we have done has been for free, so the sites you see below are relatively simple, static sites. These clients were all acquaintances of ours. They desperately needed our assistance, but didn't have the funds to pay for our services. So we helped them out, learning a great deal in the process.
Academy of Dance
This site had been languishing unattended for quite some time when we first ran across it. Because the company lacked the funds to do anything about that, the site was developed for free as a way DWGraphics can support the arts. It had roughly a dozen pages, some of which you can see by clicking on any of the pages in the illustration below. The Academy of Dance has since been sold to a new owner.

Ballet Spokane
This was another site that dormant and neglected for a considerable period of time. We took the existing graphics and developed a new template for the site and worked with the ballet company's director to update all its content. Unfortunately, Ballet Spokane fell on hard times from a funding perspective, and the company has since disbanded. We very much hope it can be resurrected in the not too distant future. (Please note that the beautiful poster graphics were NOT done by DWGraphics.)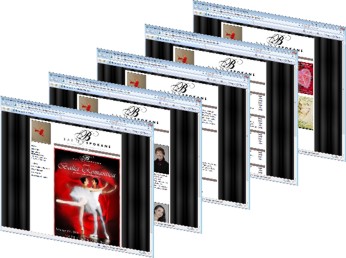 BizWorks Studio
This site was the company's initial website, and was developed at no charge to the client. It is no longer being managed by DWGraphics. If featured several sections, including one devoted to selling a book by the company's owner, another dedicated to an alternative school the company was trying to promote, and a third to generating consulting work for the company. The site design was implemented using nested templates and style sheets (a master and one for each of the sites major sections). DWGraphics built roughly 20 pages for the site. Click on any page to view view a larger image of it.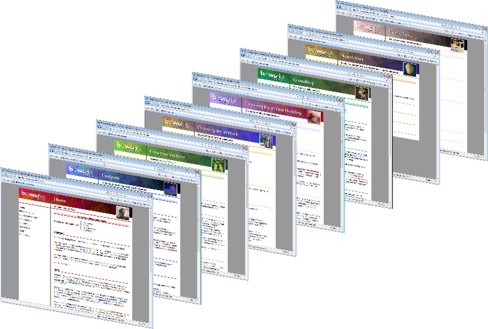 Hall of Flame
We revamped this for a guy we know whose hobby is painting and pinstriping everything from cars to to mailboxes to toilet seats. And we do mean everything. When we first laid eyes on his site, it literally hurt them. In addition to completely redesigning the site's overall graphical theme, a major undertaking for this project was cleaning up the myriad of photos he sent our way. In some cases, the items he'd worked on were cropped out of their background, but the edges were jaggy and ragged-looking. In other cases, his work was in its original setting -- sitting on a table or chair with all kinds of distracting objects in the background. We cropped and cleaned all his images so they had smooth consistent borders and were uniformly sized. He was delighted with the results.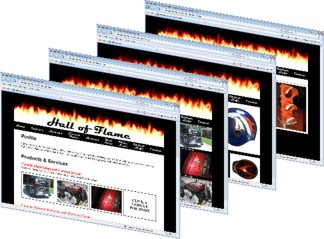 On Sacred Grounds
We built this simple site for a proprietor of a small coffee establishment. Besides selling coffees and teas, she also sold interesting used books in her shoppe, and often featured the works of local artists. She eventually moved to her business to a new location, and she or someone else took over website.